By Global Study Abroad, Singapore
(Updated 22 November 2017)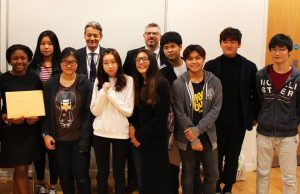 Bellerbys College's intake for January 2018, April 2018 and September 2018 is open. Apply using your preliminary results to secure a place without your actual results. Although the Early Bird Discount is over for the January 2018 intake, you will still be eligible for £4,000 Bursary if you confirm your place now for Foundation studies! Details on Scholarship and Bursary for Foundation, GCSE and A-levels at Bellerbys College can be found here. On top of Bellerbys College's bursary, Global Study Abroad is also giving away our own bursary up to S$1,000. We are also offering a waiver of IELTS for all students enrolling for Bellerbys College (All students are required to take IELTS to be eligible for enrolment with Bellerbys College).
Please note that additional Early Bird Discount of £1,000 (total £5,000) for Foundation studies is still open for the April 2018 and September 2018 intake. Please do also note that tuition fees will be increasing for September 2018 intake starting 5 January. Quickly confirm with Global Study Abroad before the deadline. If you are interested in additional Bursaries, Global Study Abroad offers our own GStudyAbroad Bursary of up to S$1,000.
If you are interested to apply and confirm a place at Bellerbys College for January, April or September 2018 intake, please call +6563521121, drop us an email at info@gstudyabroad.com or fill in the form below. For more details, please click here.